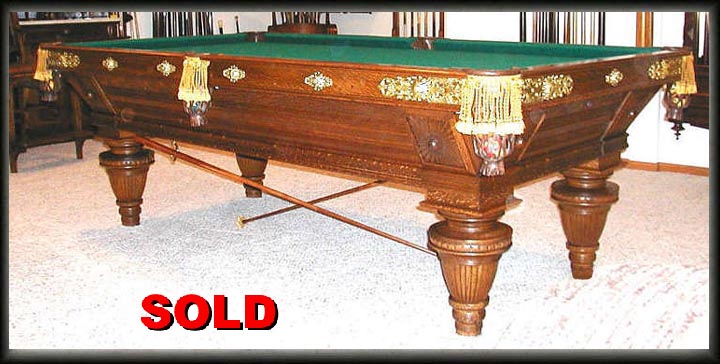 This is Brunswick Balke Collender's top-of-the-line version of the highly sought after 1880s "Union League" model pool table, and it's in the extremely hard to find 4 ft. x 8 ft. size. It's made entirely of stunning quarter-swan oak. Having consolidated with B. A. Stevens by this point, Brunswick, for a short time, continued to decorate this model and a few others with the fabulous solid brass hardware that Stevens had designed. Very reasonably priced at only $24,500, which, of course, includes new balls, 4 new cues, a triangle, a bridge, AND shipping right to your door [at any continental U. S. destination]. An incredibly luxurious table....at a VERY competitive price. We also have a fabulous, heavily carved, same-vintage oak cue rack and ball rack that could be purchased as well that are dead ringers for matching this breathtaking table.

Price: SORRY, THIS TABLE HAS BEEN SOLD.

Check out the accessories page and see some of the matching racks that we have available to make your room complete.

Go back to main list.